guys, can I ask you to take a moment to click on this page on "Offer dry food" and then on "Free". Each free click is worth 1g of kibble and once the goal of 1140kgs is reached,
this woman's association
will receive free kibble to feed the 150 abandoned cats and kittens she cares for in Morocco: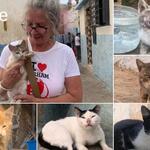 URGENT! In Morocco, the street cats and those at Ann...